Scooter Bikes - Experience Joy in your Daily Commute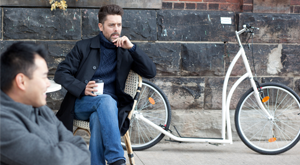 A scooter bike is part scooter, part bike and a 100% unique and fun riding experience. SIDEWALKER's scooter bikes are designed with the safety and comfort of the rider as the number one priority, creating an enjoyable, healthy and economical option for transportation.
As you can see from the photos, SIDEWALKER's scooter bikes can either be described as bikes with no seats and pedals, or scooters with large wheels. Because there are no seats, the rider stands tall on the platform, which puts a lot less strain on their lower back and bottom. Riders no longer have to fiddle with their gears or worry about getting oil on their clothes as there are no gears or chain. Another benefit is the ease of which the rider can hop on and off the scooter bike. And no seat means that women no longer have to worry about skirt and dress lengths, and the scooter bike can be shared by anyone without having to adjust the height of the seat.
The features that make SIDEWALKER's resemble bikes are their professionally made scooter frames and forks, with large pneumatic wheels, and high quality components that allow riders to go at speeds reaching 20 miles per hour and higher. The large wheels also make SIDEWALKER scooter bikes much better than regular scooters at navigating bumps and more difficult and bumpy terrain.
Each SIDEWALKER scooter bike offers different benefits to meet the needs of any rider:
The CITY model is great for getting around not only a city, but the countryside too. With 26" wheels, this model offers the smoothest ride and is great for long, straight roads, but also allows for the flexibility and maneuverability of short and medium rides as well.
The WILLY model is just wily! This scooter bike features 20" wheels and is agile and intuitive enough to handle busy streets and sidewalks, and is the most popular model for dog owners.
The MICRO is perfect for the commuter who might need to take multiple forms of transportation in one trip as it is lightweight, foldable and has 12" wheels. Just fold it up and hop on the bus, or store it under your desk at work.
Give us a call at 416-702-3636 to learn more about SIDEWALKER scooter bikes and to find out which model is right for you.