Kick Bikes: The All-in-One Solution for Transportation and Exercise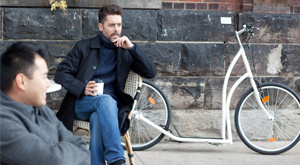 Kick bikes offer a practical transportation alternative to bicycles while immeasurably increasing the enjoyment of getting around. SIDEWALKER kick bikes are used by sports enthusiasts, for the workout they provide, and also by inner city dwellers for their unmatched ability to make getting around a safe and fun experience. Described as being a marriage between a bicycle and a scooter, SIDEWALKER kick bikes are a fun and economical way to get around.
With its European design, each SIDEWALKER kick bike is built to last with high quality welds and Chromoly steel frames, which are much stronger than the regular steel most bicycles are made with, and can support a rider up to 375 lbs. (325 lbs. for the foldable MICRO model).
Each SIDEWALKER kick bike offers different benefits to meet the needs of any rider:
The CITY model is great for getting around not only a city, but the countryside too. With 26" wheels, this model offers the smoothest ride and is great for long, straight roads, but also allows for the flexibility and maneuverability of short and medium rides as well.
The WILLY model is just wily! This kick bike features 20" wheels and is agile and intuitive enough to handle busy streets and sidewalks, and is the most popular model for dog owners.
The MICRO is perfect for the commuter who might need to take multiple forms of transportation in one trip as it is lightweight, foldable and has 12" wheels. Just fold it up and hop on the bus, or store it under your desk at work.
Give us a call at 416-702-3636 to learn more about SIDEWALKER kick bikes and to find out which model is right for you.