Folding Adult Scooter - Fits your Lifestyle with its Compact Design and Usability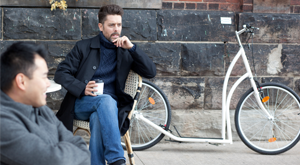 Can you imagine gliding down the street, hopping off your scooter, folding it up and putting it over your shoulder to get on the bus? Or arriving at work, folding up your scooter, taking it upstairs and neatly storing it underneath your desk? With a SIDEWALKER folding adult scooter, no longer do you need to find a special space to store a bulky bicycle, attach a cumbersome bike rack to your car or worry about it being stolen or weathered away by the elements as it sits outside. The SIDEWALKER MICRO can easily fit into the trunk of any car, find a spot in any office or closet, or even fit in the luggage compartment of a train. The MICRO folding adult scooter weighs only 16 lbs. which makes it completely portable for carrying on buses or taking it up a flight of stairs.
The MICRO folding adult scooter may be small but it is as sturdy as its CITY and WILLY counterparts with a frame made of Chromoly steel and 12" pneumatic tires. The platform height is 5.5" off the ground providing safety and maneuverability for the rider, while maintaining comfort for kicking and gliding. SIDEWALKER MICRO folding adult scooters can accommodate riders up to 325 lbs. and 6'6" tall.
The MICRO folding adult scooter is a great option for every day exercise, running errands, or take it with you on vacation to lessen the foot and back strain that comes with the endless walking of exploring historic places.
Give us a call at 416-702-3636 to learn more about the SIDEWALKER MICRO folding adult scooter.