Adult Push Scooter: Indulge the Kid In You!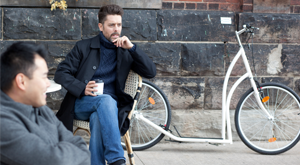 Quite often scooters are associated with childhood, as something for children to putter around the neighborhood with while jumping from one friend's house to another. SIDEWALKER adult push scooters are designed with that same spirit of fun, but with the crucial added element of adult strength and practicality. Today adult push scooters are viewed as an integral element of the transportation landscape in many busy urban environments.
SIDEWALKER adult push scooters are built to the highest standards with the strength of high quality welds and Chromoly steel frames and the safety of two v-brakes that allow riders to stop on a dime. With a platform height of 5.5" off the ground, SIDEWALKER scooters are able to handle the city's rough terrain such as cracks in the sidewalk, curbs, potholes and many other obstacles. Adult push scooters are also more maneuverable than an average bicycle due to a lower center of gravity and the ease of being able to quickly hop off and on. And you'll love the feeling of freedom as you glide down the street standing tall and not hunched over the handlebars. Every day chores and activities become fun as you whiz down the street, and feel like a kid again.
Each SIDEWALKER adult push scooter offers different benefits to meet the needs of any rider:
The CITY model is great for getting around not only a city, but the countryside too. With 26" wheels, this model offers the smoothest ride and is great for long, straight roads, but also allows for the flexibility and maneuverability of short and medium rides as well.
The WILLY model is just wily! This adult push scooter features 20" wheels and is agile and intuitive enough to handle busy streets and sidewalks, and is the most popular model for dog owners.
The MICRO is perfect for the commuter who might need to take multiple forms of transportation in one trip as it is lightweight, foldable and has 12" wheels. Just fold it up and hop on the bus, or store it under your desk at work.
Give us a call at 416-702-3636 to learn more about SIDEWALKER adult push scooter and to find out which model is right for you.