Kick Scooters Allow You to Stand Tall and Enjoy the Ride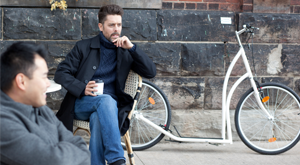 Whether you live in a big city or in rural farming country, SIDEWALKER kick scooters offer the freedom and mobility of a bike with the simplicity and comfort of a scooter. One kick and you're off! Riding a kick scooter is very simple and most riders will have mastered it within minutes. You experience the same sensation of speed as with a bicycle but are standing upright and lean in the direction you want to go while you kick with one leg. In no time, riders develop a natural rhythm.
Different kick scooter manufacturers offer different platform heights. Lower platforms require less squatting to kick but they also may not clear all of the bumps and potholes in the road. SIDEWALKER kick scooters maintain rider safety with a platform height of 5.5" off the ground. This is a reasonable platform height for kicking comfort but also allows for safe minimum ground clearance.
Choose either the CITY kick scooter model with 26" inch wheels, much like a bicycle, the WILLY model with 20" wheels or the foldable and lightweight MICRO model with 12" wheels.
Give us a call at 416-702-3636 to learn more about SIDEWALKER kick scooters and to find out which model is right for you.