Non-Motorized Scooters - Enhance your Daily Exercise Routine with your Dog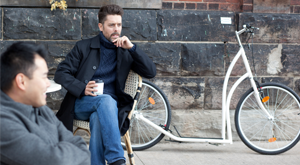 Whether you and your dog prefer a nice stroll through a park or a brisk jog along the street a SIDEWALKER non-motorized scooter is a great addition to your daily routine. If your dog prefers to run but you would rather get a less intense workout, you will find that an non-motorized scooter perfectly complements the trotting speed of most dogs, providing a great workout for your dog and a less intense workout for the walker.
Non-motorized scooters are much safer for dog walking than bicycles because the rider is standing and able to hop off very quickly should the dog stop suddenly. Dog walking can also be hard on a bicycle if the dog veers off into rougher terrain, but SIDEWALKER non-motorized scooters are very sturdy due to their high quality welds and Chromoly steel frames. This material is much stronger than the regular steel often used by other manufacturers.
The WILLY SIDEWALKER non-motorized scooter with its 20" wheels and easy handling is a popular choice among dog owners.
Give us a call at 416-702-3636 to learn more about SIDEWALKER non-motorized scooters and to find out which model is right for you.