The diverse line of Sidewalker Scooters meets the needs of any rider.
Click the image below for more information on the Atom, Willy, Micro and City models.
ATOM
NEW!
Our latest & newest design, the ATOM is our best 12" wheel collapsible Sidewalker scooter. It is the smallest and lightest Sidewalker, making it ideal for travelling to work or taking it on subways, buses or other forms of public transportation. A super strong aluminum frame, with lower & wider platform than all our other models. Included fenders and better tires, with a locking ring for safely locking the ATOM. The only Sidewalker which comes FULLY ASSEMBLED in the box, ready to roll.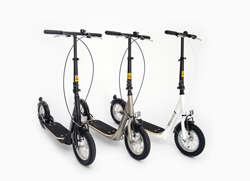 WILLY
A mid-range kick scooter with 20" pneumatic wheels that are smaller than a standard bicycle but larger than the standard kick scooter. The WILLY Sidewalker is agile and maneuverable and is great for handling city streets and sidewalks. The responsive handling of the WILLY make it the most popular model for dog running or dog scootering.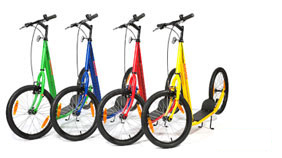 MICRO
With 12" pneumatic wheels, the MICRO offers a smooth ride and has a high ground clearance to make curbs and dips in the road easy to navigate. With an extendable handle, the MICRO is perfect for riders of all heights, and it only takes seconds to fold it up and tuck it away for those with limited storage space.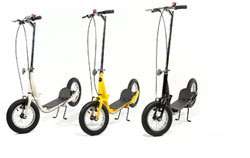 CITY
The fastest and most stable Sidewalker, the CITY is favorite among test drivers because of the superior smoothness of the ride. With 26" wheels, the CITY may look like a bike, but when you're standing tall on the platform, you will fully appreciate the "majestic" glide of the scooter. One gentle kick and the CITY rolls beautifully.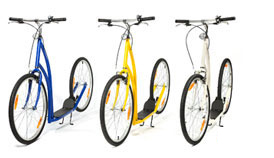 WE ACCEPT PAYMENTS WITH PAYPAL, VISA and MASTERCARD.
We ship from Buffalo, NY via UPS Ground. In Canada we ship from Toronto.
Delivery takes 2 to 5 days depending on your location.
Please contact us with any questions. To order over the phone call us at
416-702-3636
.