At first glance many think that a Sidewalker scooter is a bike, until the inevitable question arises "where is the seat?" A kick scooter easily handles bumps and potholes providing the convenience and maneuverability of a bike, with the added comfort of riding in an upright position to lessen the strain on the back.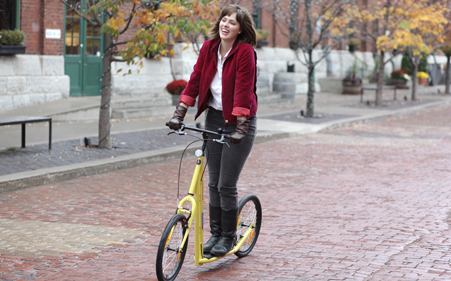 Whether you consider them to be bicycles without seats or scooters with bicycle wheels, Sidewalker scooters are can be referred to as many things, including scooter bikes, push bikes, kick bikes, push scooters, kick scooters, adult scooters, non-motorized scooters and more. No matter what you call them, they never lose their practicality and the fun of their riding experience.
FITNESS
Riding a scooter is a low impact workout with cardiovascular benefits that helps to strengthen the body and improve posture. With one foot placed firmly on the Sidewalker's platform, kick with the other leg and feel the scooter smoothly glide over the road. Change the kicking foot to work out both sides of the body equally. Enjoy the scenery as you go whizzing by standing upright and not hunched over the handlebars.
Sidewalker Scooters' Micro, Willy and City models give the rider more of a workout than cycling with much less of the jarring impact on joints than jogging or running. With fewer mechanics, the rider enjoys a lower center of gravity and more freedom of movement. And forget about the pain in the rear end that comes with sitting on an uncomfortable bike seat.
If you have ever tried cross-country skiing, you will be familiar with the sensation of kicking a scooter. The large muscle groups used in cross-country skiing are the same ones that get a workout when kicking a Sidewalker Scooter. Concentrating on the larger muscle groups is a key factor when trying to lose or control one's weight through exercise. The leg that remains stationary on the scooter uses the anterior thigh muscles, while the kicking leg focuses on the posterior thigh and calf muscles, also engaging the hips and buttocks.
Sidewalker scooters were originally designed in Europe and are manufactured in Taiwan to meet the highest quality standards. Since 1999, we have distributed and shipped out of our warehouses in Buffalo, New York and Toronto, ON to all of North America and beyond.
USAGE
The design of Sidewalker Scooters makes transportation simple. There is no chain with oil to stain your fingers and clothing, and no gears to adjust. Stepping on an off the scooter is simple and you can easily share it with a friend or relative because you never have to adjust the height of the seat. Most Sidewalker owners use their scooters for everyday activities like trips to the grocery store and walking the dog. The average speed is about 15 miles per hour, but can go as fast as 20 mph, with the security of front and rear v-brakes.
Sidewalker Scooters have set records throughout the world with one European team riding them 342 miles in 24 hours and another going 970 miles in 10 days through a Russian mountain range on snow and gravel covered roads. You probably won't face terrain like this on a daily basis but it's nice to know that your scooter has withstood these tough riding conditions and is strong and durable enough to handle whatever you need it to maneuver.
Sidewalker Scooters have a sleek and unique design and functionality. Don't be surprised to hear people exclaim "What's that?" as you zip by and "Cool! Where can I get one of those?"

CHOOSING THE SIDEWALKER THAT'S BEST FOR YOU
Sidewalker Scooters' current line of products includes three models. Each boasts a strong frame, pneumatic tires, sturdy v-brakes and good ergonomics. When choosing the Sidewalker to best meet your needs consider factors such as the terrain in the area where you live and the kinds of outings you will make on your Sidewalker. Are you a commuter? Is foldability important to you? If so, the MICRO is a natural choice. For smoothest ride on long straight runs, choose the CITY. In crowded areas , the WILLY excels with great maneuverability. Click here to find out more about Sidewalker's three models.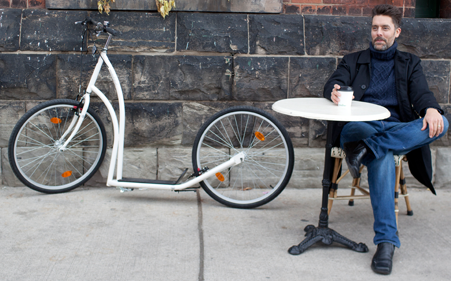 Bob Pace from Maryland, and his wife Colleen (pictured here) enjoy scootering with their dog on a WILLY Sidewalker.

In Bob's words...

"Take one or two dogs that love to pull, properly hook them up to a Sidewalker kick Scooter and you have an amazing sport that allows you to have a ball and give your high energy dogs lots of exercise.Instead of a sled you have a scooter and no need for snow!

This tends to be an urban sport on sidewalks and paved trails but fire road and mountain bike trails are fair game too. It is very important to have a properly fit harness for your dog, a gangline to connect dog and scooter and all the appropriate safety gear Itís a great way to spend quality time with your dog outdoors, give them (and you) exercise."

For practical dog scootering solutions for Sidewalker Scooters go to: www.dogpoweredscooter.com
"... I love it!!! ...takes you further with less effort..."
I received my blue CITY Sidewalker model today, and was able to quickly assemble it and I love it!!!
I also recently got a Kickbike G4 and I can tell you that your CITY model is much nicer. I like the bigger wheels because they produce momentum which takes you further with less effort. Also, the larger size and taller front end means less bending over. I love my new scooter. Thanks very much!
Marci T. [Redding, CA]

"...Love my 10-year-old MICRO!..."
I bought a MICRO Sidewalkerfrom you about 10 years ago! I still love it!
Zoltan S. [Ferndale, PA]

"...Great exercise, fun to operate..."
I love the CITY Sidewalker. Great exercise, fun to operate. I want to use it every day! Slower than a bicycle, but a better workout.
Loren K. [Irvine, CA]

"...My dog loved it!..."
Got the scooter professionally assembled and attached the pulling system myself. We took it out for our first test run on Sunday. It only took my dog about 3 strides to get the hang of it, and we were off like a shot. It works perfectly. The design is excellent. My dog LOVED it. It's everything I have been wanting in a combination of wheels + dog but could never find. Thank you so much!
Stacy [Long Beach, CA]
"...convenient to ride in the city..."
I am so so pleased with the MICRO Sidewalker. I immediately enjoyed riding it, although it took me a few weeks to use it daily. It is much more tiring that biking but I have no time for exercise and with 30 minutes a day total riding the Micro I am now in very good shape and it's lots of fun. I have been using since beginning of July daily to drop my children (6 and 4 years) at school/camp (one at a time) and continue my way to work. I am taking it daily in the train and after the train I am riding for 15 minutes to go to work.
During these summer days I really enjoyed riding the Micro sidewalker. It is very well-designed for city use; compact, very sturdy, very easy to fold and has a very cool look. I love the colorful bell. It is a lot of fun and very very convenient to ride in the city. I do not feel a shock when I am riding over holes or edges of sidewalk.
Marina [Boston, MA]

"...Very happy with my WILLY Sidewalker.."
If you ever need a testimonial for your website I'll be happy to oblige. I am very happy with my WILLY Sidewalker, it has given me several years of good service.
Gary H. [Naperville, IL]

Please email your testimonials to kickstartscooters@yahoo.com